Models available from Greater Cincinnati Automobile Assn. dealer members value  more than $1,726,000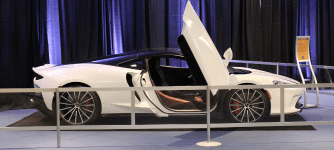 Our 2023 General Electric Credit Union Dream Machine Blvd. features 14 hard-to-find and highly-desirable models with a combined value of more than $1,726,000. 
Be sure to visit our exhibit as you enter this year's Expo in Elm St. Concourse. 
Alfa Romeo, Dodge, BMW, McLaren, Mercedes, Ford and Jeep are all represented on "The Boulevard." Stop by to dream and maybe one of these machines will make its way to your garage.